Accommodation in Prague, Prague accommodation, Accommodations in Prague
› Home › Accommodation in Prague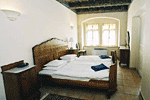 Apartment Vlasska 6
Prague Accommodation
Apartments in Prague offers wonderful Prague accommodation in our carefully selected apartments throughout the center of the Czech capital.
Each apartment is inspected by our staff to make sure it fits our company's criteria before it's placed in our offer to you. We look for outstanding location; we only take accommodation in Prague's center. We look for apartments which we consider "special", meaning the apartment must have a spectacular view, an excellent location or perhaps something which sets the apartment apart from all the others in the neighborhood. Our Vlasska apartments, for instance, not only have an outstanding location in Mala Strana, outstanding for any Prague accommodation, but the ceiling beams are very unique and give our clients a taste of what Prague was like before modernity intervened with Czech culture.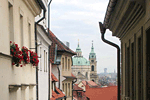 Residence Janska
Finally in our Prague rental apartments we like to put in a mixture of antique furniture and modern things. We like antique furniture because, again, it lets our clients get a feeling of what Prague must have been like. But we can't ignore modernity either. That's why you will find many modern conveniences, washing machines, radios, dishwasher, refrigerators and the rest in most of our apartments. With these criteria in mind, we feel we can offer you the most comfortable accommodations in Prague you can find.
Enjoy your accomodation in Prague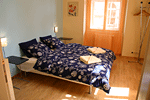 Apartment Karoliny Svetle
By the time we offer an apartment accommodation to our client then, it's been through a vetting process to make sure we can bring you the absolute best apartment for your money. We want you to enjoy your accommodation in Prague, to be able to wander the cobbled streets, taste the ubiquitous beer, frolic at a night club, take in an opera or concert and be able to come back to your Prague accommodation knowing you're going to get a good night's rest and some peace and quiet before heading out the next day to do it all over again.
Accommodation in Prague only with Apartments in Prague
At Apartments in Prague we take real pride in offering you the best service, the best apartments in the best locations for the best prices and the best choice of Prague accommodation. We really hope you'll consider staying with us when choosing accommodation in Prague for your vacation or holiday here.
› Back to Apartments in Prague.
Now ALL of our Prague Apartments feature free WiFi internet access
!